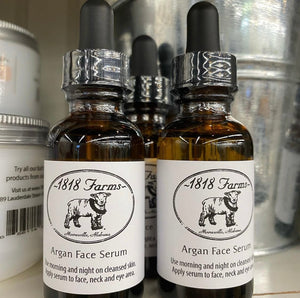 The 1818 Farms Argan Face Serum contains fine, yet simple ingredients. Our serum is a blend of Argan, Evening Primrose and Grape Seed Oils, which are combined with a bit of Vitamin E and Lavender Essential Oil.
Our Argan Face Serum is a "must have," daily moisturizing product. Apply the serum before bedtime and in the mornings after washing your face. In the morning, apply sunscreen after the serum has absorbed. It only takes a few drops of this concentrated serum to feel hydrated. The serum absorbs quickly and is not greasy.
Ingredients: Argan Oil, Evening Primrose Oil, Grape Seed Oil, Vitamin E, Lavender Essential Oil

Directions for use: Apply a few drops of this serum to face, neck, and eye area.
Amount: 1 oz.