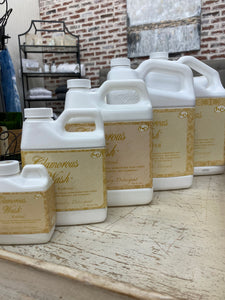 Wash Day has never been so glam.  
ENTITLED™ - Privilege is perfection & special treatment is immediately granted!!! Rich sugared oranges, meld with tart lemons, and limes, reminiscent of exotic mountain greens!
High Maintenance -  Is a floral, woody blend combined with patchouli and vanilla with a heavy musk undertone! Very sophisticated and truly addictive!!!!!!! 
DIVA - A warm and complex fragrance overflowing with delicious fruits and rich florals. Rich aromatic chocolate and amber complete this luscious long lasting soothing blend.
French Market -Fresh floral with notes of gardenia and tuberose. Extremely unique!